The Ultimate Midwest RV Road Trip Guide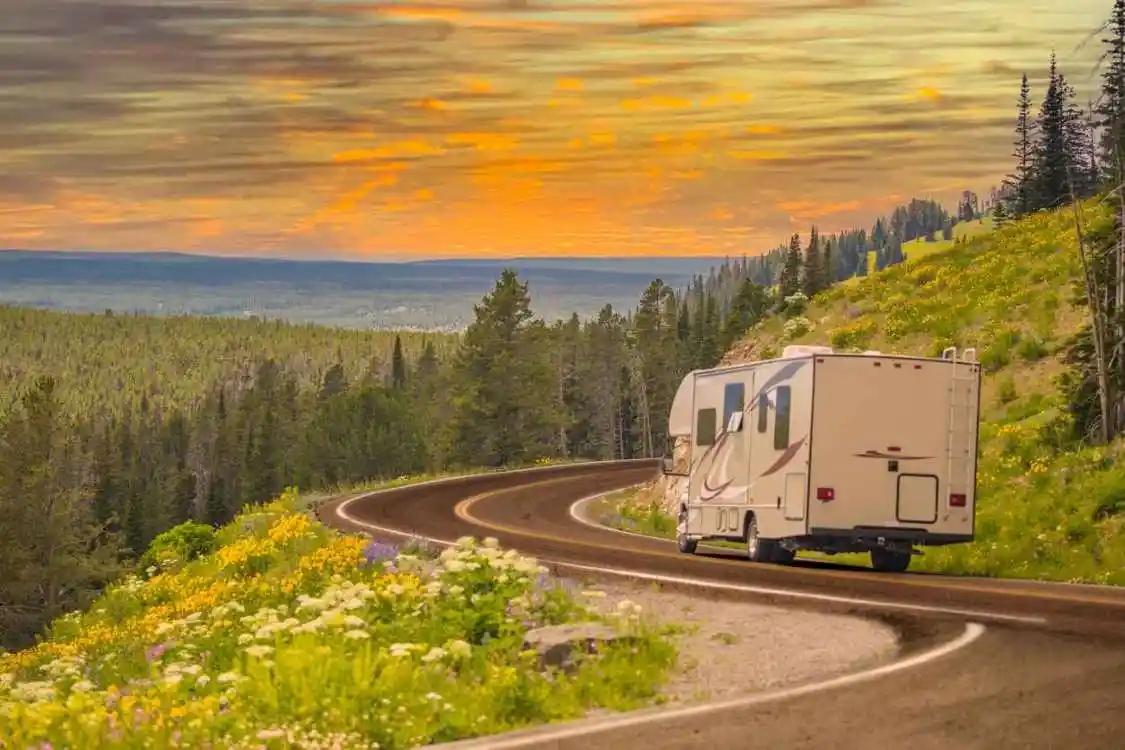 There's something undeniably invigorating about the idea of an old-fashioned road trip. The open sky, the scenic views, the hours spent alongside some of your favorite people—there's so much room for everything to go right that we can't help but be disappointed in the instances where it goes wrong.
Do yourself a favor: Make your next Midwest road trip loop trouble-proof by planning for every occasion. By determining your route in advance, you'll be able to build a custom itinerary that speaks to the tastes, priorities, and preferences of your traveling party. The Storage Manager wants to help facilitate that type of memorable experience, cultivating that classic American road trip adventure, by providing some of our favorite routes you can take and some suggested locales to hit along the way.
The Very Best Midwest Road Trip Loop
A Midwest road trip can offer a wide range of exciting experiences for families, from exploring national parks to visiting historic sites and charming towns. Here's a suggested itinerary for a family road trip in the Midwest, based on a collection of our favorite destinations along the way.
Midwest Road Trip Destinations
Obviously, depending on where you're starting from, we don't necessarily recommend you do things in the exact order we're about to outline. That's the best part about it being a loop.
That said, if you can, start in Chicago, Illinois. Commencing your trip in the Windy City, where you can visit iconic attractions—such as the Navy Pier, the Field Museum, and the Art Institute of Chicago—is an excellent way to kick off your grand Midwest journey!
From there, navigate up to the Wisconsin Dells. Drive North until you find an abundance of water parks and outdoor activities. We'll talk about the Wisconsin Dells more later in the article.
Visit Minneapolis, MN, next. From the Dells, head west to Minneapolis, where you can visit the Mall of America, the largest mall in the United States, and explore the city's parks and museums. It is an absolutely beautiful city during the warm months.
Visit the Midwest National Parks
Then, drive west to Badlands National Park in South Dakota, where you can hike, camp, and explore the unique landscape of the park. It's the ultimate craggy, mountainous horizon, at least in this part of the world, and when the sun hits just right, those hills sing.
Continuing with this theme of a Midwest National Parks Road trip, head to Mount Rushmore to see the iconic monument and learn about the history of the area. What's not to love about four giant heads shaped like our nation's leaders?
Next up on our Midwest road trip stops, go west to Yellowstone National Park, one of the most popular national parks in the United States, and explore its geysers, wildlife, and natural wonders. Just make sure you don't go alone if you can help it. Yellowstone is immaculate, but it's also massive, and people are prone to getting lost if they stray too far from safety.
Finish Out West
Finally, head south to Denver, CO, where you can explore the city's museums, parks, and restaurants. The Museum of Nature & Science is absolutely incredible and one of the most kid-friendly options on the trip.
This road trip can take around two weeks to complete, depending on how much time you spend at each stop. Of course, you can customize this itinerary to fit your family's interests and schedule and start from whichever point is nearest to you.
Where To Eat When On the Road
If you don't have a pre-planned destination (or more likely, you are mid-journey on your Midwest road trip loop and there aren't any major food stops nearby) you can always do one of the following:
Eat fast food. Sure, it's not the best in terms of health or calorie count, but you really only need something to hold you over until you hit your next city or tourist destination.
Stop at a gas station. Depending on the size of the gas station, you don't even need to resort to 12-hour-old taquitos. Find some deli meat, bread, and a couple of condiments, and you can make sandwiches. Alternatively, grab a beef stew or ravioli meal for a quick bite. Stock up on water while you're here.
Pack food in advance. Make sure you don't need to stop for food by preparing meals in advance. These can be simple sandwiches, fruit, yogurt, and other basic items that keep well in a cooler. Don't forget the power of snacks, too!
Must-See Midwest Road Trip Stops
If you're keen on building your own road trip itinerary based on the expected attractions or landmarks you might find along the way, here's a plan-free list of some of our favorite locales for you to consider as you organize your ideal Midwest road trip loop.
Mount Rushmore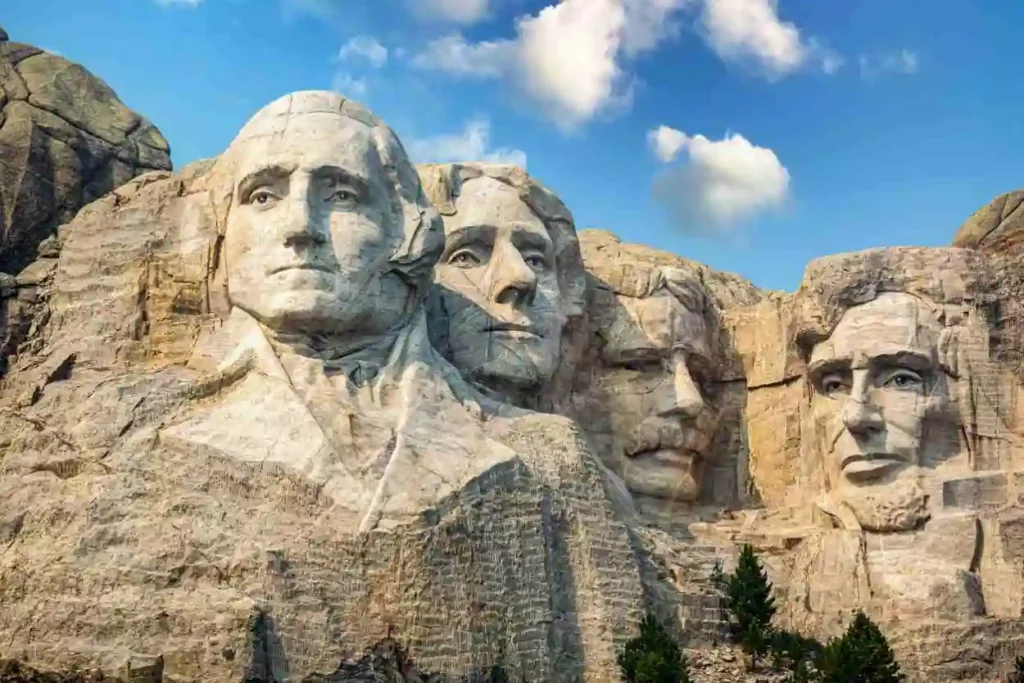 Located in the Black Hills of South Dakota, Mount Rushmore is a monument carved into the side of a mountain featuring the faces of four United States presidents: George Washington, Thomas Jefferson, Theodore Roosevelt, and Abraham Lincoln. It is a quintessential Midwest road trip stop and should be seen at least once in a lifetime.
Mackinac Island
Located in Michigan, Mackinac Island is a charming and historic island that features beautiful Victorian architecture, horse-drawn carriages, and stunning views of Lake Huron. It's immaculate views and intriguing history, combined.
Wisconsin Dells
Located in Wisconsin, Wisconsin Dells is a popular tourist destination known for its scenic beauty, water parks, and outdoor recreational activities. Go during the warm season and you can participate in a stellar zip line tour far above the ground. Wisconsin Dells makes a great road trip destination for families with kids!
Cuyahoga Valley National Park
Located in Ohio, the Cuyahoga Valley National Park is a beautiful park that features waterfalls, hiking trails, and historic sites such as the Ohio & Erie Canalway. This is one of our favorite Midwest road trip stops for individuals and families.
Lake Michigan
One of the five Great Lakes, Lake Michigan is a stunning body of water that spans four states (Wisconsin, Illinois, Indiana, and Michigan) and offers beautiful beaches and recreational opportunities. Do you like to swim, paddleboard, or kayak? This is your place.
Mall of America
Located in Bloomington, MN, the Mall of America is the largest mall in the United States and features over 500 stores, an amusement park, an aquarium, and many other attractions. Depending on when you visit, you might be fortunate enough to witness a high-profile concert or even oddities like a robot battle arena.
Complete Your Trip With The Storage Manager
Whew! What a ride, right? Whether you went the path we suggested or made a journey of your own, chances are you are exhausted but enriched and fulfilled. That's a win in our book.
Quick question: Did you happen to use an RV on this Midwest road trip loop? If you're looking for some holding space for it, we'd like to offer you an opportunity to take advantage of our professional self storage service. Featuring competitive storage rates, constant facility upkeep, and customer service agents we're proud to call our own, you can leave your RV in our hands, knowing we'll do right by you.
The Storage Manager offers outdoor RV storage in Edmond, OK, Mason City, IA, Marion, OH, Macomb, IL, Ironton, OH, and more.
Call us today for a quote or to ask any questions about our process. We're an open book and believe that the best storage units are the ones that help you every step of the way.
More From The Storage Manager